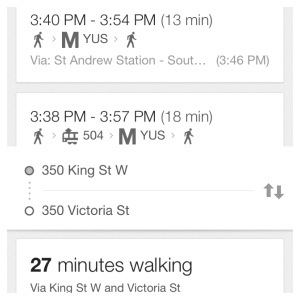 Have my first short transition today. Lightbox to Ryerson in under an hour between Tim's Vermeer and Only Lovers Left Alive. The voyage has an added level of difficulty because huge sections of King between the Lightbox and Roy Thompson Hall are closed for red carpet shenanigans. The plan will be to scamper out of the Lightbox, head slightly north and cut east on Pearl to University, the south back to King to jump on the subway southbound around the hump then north to either Dundas or College.
The southern approach to Ryerson through Victoria to join the line on Gould if I'm running early and see tweets about people waiting in line is an option, but it is more likely I will arrive after they have let ticket holders in and I will have to muscle my way through people in rush and eyeballing talent.
The one fly in the ointment is if parts of Pearl are blocked by security to onboard and exfiltrate talent from Princess of Wales. Then I'm frakked.