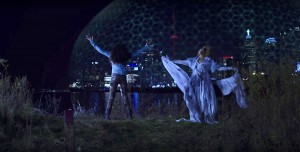 I take a break at the 15 movie mark to talk to Sharon Lewis, director of the upcoming Brown Girl Begins, based on the novel Brown Girl in the Ring by Nalo Hopkinson. We have a great talk about representation, the genius of Bradford Young and her journey to discovery this story while she was studying to be a director in LA. A TIFF related tangents that are entirely my fault.
If you are in Toronto on Thursday September 14 hear Sharon speak at A Black Woman's Gaze Panel Discussion at Black Artists' Networks Dialogue at 19 Brock Avenue.
If you are in NYC catch Brown Girl Begins at Urbanworld on Saturday September 23.
Follow Sharon Lewis
http://www.thesharonlewis.com/
https://twitter.com/thesharonlewis
BAND
https://twitter.com/blackartndialog
See Brown Girl Begins
http://www.urbanworld.org/2017/brown-girl-begins
http://www.thesharonlewis.com/work/brown-girl-begins/