Every year I end up picking at least one movie based entirely on the picture in the programme book. I know better than that by now, but something about the cool neutrals in this picture with the contrast of the two swimsuits made me stop each time I flipped through the book.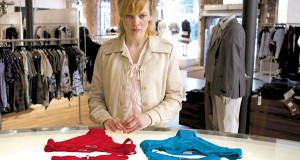 Cold Lunch, unlike some other movies with great stills in the programme book (I'm looking at you Sistagod) actually was the kind of movie that made me stop and pay attention. The movie follows several characters as they make poor choices and let life happen to them. The way the narrative weaves in and out of the lives of these loosely connected people allows the viewer to spend enough time in each story to get frustrated with the characters, but not so long that you get bored with the movie. The characters all have moments of self-awareness, where they and the audience know that they could make a change in the direction they are headed, but like most real people they don't. Oddly compelling.
Flame and Citron was like watching a graphic novel about an action hero and his sidekick. The ethereal Flame is a sociopathic resistance fighter in WWII era Denmark and Citron is his fixer/driver turned backup hitman. Unlike many movies about resistance fighters these two aren't hiding in the woods or tunnels, instead they roll around the city and drink at bars that also serve their Nazi opponents. I saw this film before Good, and while the Viggo Mortensen character in that film was a good earnest professor before the war, I can't imagine that Flame or Citron would have ever been that well-adjusted whether there had been an occupation or not. What they are is entertaining, violent, passionate, heroic. Their main fault, aside from a certain cavalier attitude towards the assassinations of Nazis and collaborators is that they trust the wrong people, assuming that all of their fellow resistance fighters have motives as pure as theirs.