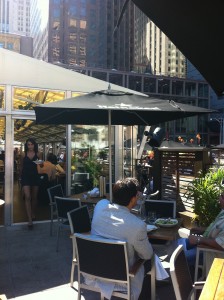 @highlandertn posted a helpful matrix showing foot travel time between theatres for TIFF11.
As someone who is not getting any younger and needs a little pick me up between films I will share my short list of places to stop for a beer, between theatres. These are not places to see and be seen, but you can get served, get a seat and take a moment to reflect on your most recent film. Please add time to order, drink  and pay to recommended travel times.
AMC to Ryerson – The Imperial Pub at 54 Dundas Street East, just east of Victoria. Go upstairs, get a bottle of 50, play some foosball and bring your own hand sanitizer to the bathroom. It's a bit sketchy but there is plenty of seating upstairs and occasionally hot popcorn.
Ryerson to Isabel Bader – 7 West on 7 Charles Street just west of Yonge. They are open 24 hours and you can get a bite before or after your midnight madness movie.
Anything at AGO – Village Idiot Pub at 127 Mc Caul Street. So many beers. Seating can get a bit tight, but the selection is worth the lack of personal space.
Isabel Bader to Scotiabank, Lightbox, Princess of Wales (POW) or Roy Thompson Hall (RTH) – The Charlotte Room at 19 Charlotte Street. Tiny streetlet between Spadina and Peter.  High quality pool tables, fantastic staff, and the best nachos you will ever have. You can get half beef, half chicken ALL delicious. They are closed on Sundays.
Lightbox (or POW or RTH) to Scotiabank – Town Crier Pub at 114 John Street. So much delicious beer. If you want something shandy-esque and light for daytime drinking try the Stiegl Radler – Grapefruit beer. For reals. We all miss Smokeless Joe's, but this place has more comfortable and plentiful seating.
Honorable mention – South of Temperance – 20 Adelaide Street West. If you head south on Yonge from AMC and hang a right at Adelaide you can't miss it. Yes, it's full of bankers. Yes, the very competent wait staff wear tiny outfits forcing them to do a pseudo bunny dip for the low patio tables but you can get sun in during the day in the middle of the financial district. They have tasty beers on tap, a fruity white wine sangria, yummy brunch and delicious fish tacos. If you want to sit on the patio on a weekday  you need to reserve or get there by 11:30 AM, but it's pretty fantastic. Allegedly they will be closed for part or all of a day/night early in the fest for the Alliance party, but the rest of the time they will be open for business. Sun-soaked, beer-flavoured business.
Stay thirsty my friends.