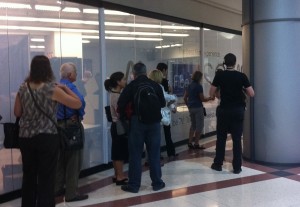 So the line was long and the site was crashy. Welcome to TIFF.
Good news – if not getting a hard ticket to a movie is the worst thing that happened to you today you got yourself what I like to call first world problems. Celebrate that.
Better news – you can still get a ticket that movie if you really really really want it.
1. If you are rich you can get a ticket from a scalper. Yes this is a little old school, and yes there are bound to be fraudsters murderers and perverts as you navigate through craigslist or twitter to get your obscenely marked up ticket, but people do it every year.
2. If you have a Visa Infinite card but are not rich enough to pay over $400 for a $40 ticket then you can try to buy your ticket through them. Go to https://visainfinite.ca/offers.html – there may be more seats available at some point before the festival starts.
3. If you are not rich and do not have a fancy high fee credit card you can wait. Like take the day off of your real life, be that work, parenting, whatever and camp the fuck out in line as long as it takes so you are among the first ten people in the rush line. How long you will have to wait varies from film to film, and you have to be logical and think that if a movie you want to see is at night or on a weekend even more people can wait for rush so you will have to go even earlier to be at the front of the line. I waited for Juno in the rush line for about 3 hours and I was still not near the front of the line. I got in, but if you want a popular screening you may need to wait at least that long if not much longer.
4. Be incredibly lucky. Sometimes they release tickets that you can buy online the same day. You need to wake up early and keep trying to order.  The challenge here is there is no guarantee that additional tickets will be released the morning of the screening and there is even less of a guarantee that the site will be operational at any point in the day.
If you are poor, or lazy or forgetful and not so ridiculously good looking that people just give you things because you ask then you are still screwed. Better luck next year.