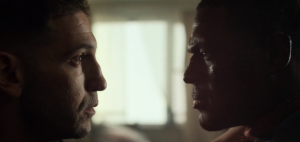 At the end of 2017 I made a new friend of my natural enemy, Chris a Kansas City Royals fan who describes 2017 as one of his best years ever. However our common love of comic books, barbecue, podcasts, and many of the things that Marvel puts on screens has brought us together.
We learn about how Chris actually made something awesome because of listening to other people complaining on the internet, the The Comic Book Database then we do a bit of light apocalypse planning.  We move on to some comic book property fantasy casting for a couple of titles including Lazarus and Rising Stars. We actually manage to stay on topic and talk about Punisher for most of the back half of the show. Spoilery tangents for all of the other Marvel / Netflix TV shows.
Also for some reason I keep calling Curtis from Punisher Calvin. My bad. I was drinking Fin du Monde  but there's no excuse as I still remembered the entire plot of The Defenders.
Follow Chris @comicbookdb