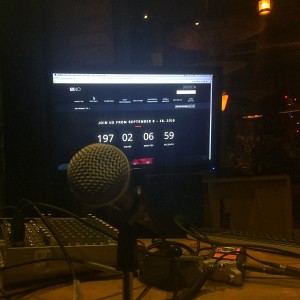 This week we have James Wilkinson, friend and executive director of Full Stack Toronto.
He's a film lover, TIFF attendee and here for my favourite topic – the online experience for patrons of TIFF.net.
We hear about James' picks from TIFF15. Our first tangent is related to the works of Captain von Trapp aka Christopher Plummer. James liked Remember, Kill Your Friends and The Danish Girl.
Much love for PM JT attending Pride TO. Perhaps too much love. We get a bit excited.
I'm a bad English major and I forgot that the Fringes was a term in The Chrysalids.
Starting at the 26 minute mark we focus on the TIFF site based on our combined years of experience in online commerce design, development and product management.
We do talk about what we love – the rich content, the secret page of awesome gifs and the new design post TIFF40.
We also look at the challenges with performance, image load time, API architecture, discoverability of calls to action, fonts, information architecture and integration of social sharing.
We hear a scary story during our font tangent about comic sans. Then I unsurprisingly go on a fonty rant.
The other Christopher Plummer movie we mention was Silent Partner
Check out Full Stack Toronto at https://fsto.co/ or follow @fullstackTO
The secret page of awesome gifs (including Tom Hardy of course) on the TIFF site is here http://tiff.net/festivals/festival15/gallery/tiffgifs
We would love to hear your suggestions as we will have James back in the future to explore potential options to improve the digital experience. Hit us up at hoorayforeverythingradio@gmail.com