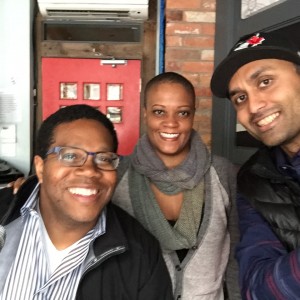 Special guest Floyd Kane, creator of colour, writer and producer of Across the Line.
J and I admit we were just as dumb as everyone else for a hot second when we saw that the movie was directed by Director X in the credits.
Floyd grew up in East Preston Nova Scotia and attended Cole Harbour High where the film is set. He tells us what it was like attending a high school known for riots of the racial variety.
We get real deep on code switching when you are the smart person of colour to stay safe and below the radar. We address the phenomenon of being invisible when you are in a lineup.
We have a relatively non-spoilery discussion of the film. I mean it's about a black hockey player in a high school known for race riots so… yeah.
Much love for Samy Inayeh from Floyd – apparently he and X were like crazy wizards getting this piece on screen.
You will be surprised to hear Floyd's favourite line in the film.
Across the Line is rolling out the week of April 6 in Landmark Cinemas and getting released in Toronto, Scarborough and Halifax April 15.
Follow the movie @acrosstheline16
Follow Floyd @citizen1970