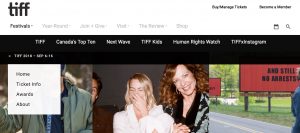 New pod with friend Lindsay to talk about the TIFF site. She is a UX/IA/Content Strategy professional who thought I was joking when I said how hard the site is to navigate.
We briefly talk about movies that we've seen recently, she hasn't seen Black Panther yet but promises that she will.
We start with what should be a few simple activities on the TIFF site, like finding out what the date of the festival is and we end up going down a rabbit hole of the millefeuille menu. You get to hear Lindsay's dawning horror as she get's tangled up in the nested site navigation much like Frodo in Shelob's web.
Tangents include best times to go camping, when to visit the Kelowna wine region, and shout outs to Fox Searchlight.