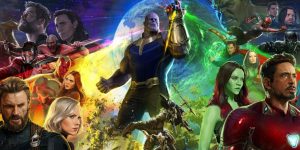 Infinity War Spoiler Episode with friend and digital designer Sam Hume. Even our intro where Sam talks about recent movies he's enjoyed mention the Marvel Cinematic Universe so if you haven't yet seen Thor Ragnarok, Black Panther or Avengers: Infinity War. INCLUDES SPOILERS / SPECULATION FOR FUTURE FILMS because Sam and I can't help ourselves.
Sam has some good thoughts about re-working your rankings for what is the best of the MCU – so we approach this as a where does this rank in the team up movies. We talk our feels – the different audience reactions, which characters / intros caused the biggest reactions. We get into our feelings about the characters, the plot points, the moments that made us feel good, feel sad, feel confused and when we think if you are seeing this a second time you could sneak out to go to the washroom.
I spend way more time talking about Thor than I could have imagined I would before I saw this movie.
Follow Sam @SamHumer
Check out his work on http://humecreative.ca/