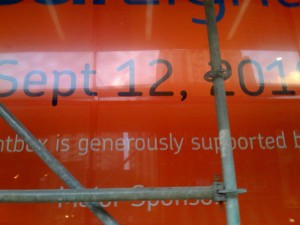 Over the last few years I have heard the lament in every lineup at every point – the dropoff, the pickup, the rush-why is this not all online yet? Why must the love of film come with the theme park experience of waiting to ride the new roller coaster-sans funnel cake? As technology takes over every other aspect of our interactions with each other, and the management of our personal finances and expenditures, why is a trip to TIFF the waybackmachine of moviegoing?
I have heard, or overheard many theories on the hot sweaty sidewalks in Toronto – they don't have the time or money to invest in the technology being the most popular. I think that one is a bit more difficult to swallow now since they managed to erect a building in the middle of downtown Toronto in a few short years – an online ticketing process should surely not be that onerous.
I believe that the excellent, creative and enthusiastic minds behind TIFF can accomplish anything they put their minds to – but I think they like the lines. They like us as a hot/sweaty/wet/shivering advertisement wrapped around street corners. They want us as a physical reminder to the city that the festival is coming-because it does seem as if every year there are those who forget. Anyone who has ever stood in line has had a stranger approach them and ask what the line is for – often to be met by incredulity and/or mockery after they hear the response that you are waiting to drop off a list of selections for a movie.
CURIOUS STRANGER
So this is a line for tickets?
TIFFGOER
This is where I drop off my selections
CURIOUS STRANGER
So can I get in this line if I want to see a movie?
TIFFGOER
Well you have to buy a package – they go on sale in June.
CURIOUS STRANGER
So you are picking up your ticket package?
TIFFGOER
No, I pay for the tickets, then two months later I pick the movies, then I drop off the selections.
CURIOUS STRANGER
So you aren't getting your tickets today? When do you get the tickets? When can I buy tickets?
TIFFGOER
In a couple of days I can come back and pick up my selections, then make exchanges – then the next day you can come and buy tickets.
CURIOUS STRANGER
Why would you exchange your tickets after you had so long to figure out what you wanted?
TIFFGOER
I may not get everything I want – there is a draw to decide at random which box of selection envelopes is processed first. If I am at the end of the list I may not get my selections as some popular picks may be sold out.
CURIOUS STRANGER
So what happens when you pay for a movie, pick a movie, then they tell you that you can't see the movie because it's sold out?
TIFFGOER
I get a coupon to exchange for another movie at the same time – or I can make second choices for the same time. Either way I have to come back and line up again to pick up my tickets and coupons.
CURIOUS STRANGER
Will the line be this long?
TIFFGOER
Longer.
CURIOUS STRANGER
That's what she said.
TIFFGOER
Excuse me?
CURIOUS STRANGER
Sorry – will the line move any faster?
TIFFGOER
Actually it will be much slower.
CURIOUS STRANGER
And why isn't this whole thing on the internet now?
TIFFGOER
I don't know.
CURIOUS STRANGER
What is up with that much shorter, faster moving lineup with the less sweaty and better-dressed people?
TIFFGOER
That is the donor line.
CURIOUS STRANGER
They gave organs to people so they don't have to line up with the rest of you?
TIFFGOER
No, they give money – like at least a thousand bucks to the festival and they get to have their orders processed before everyone else and buy tickets before everyone else. The more money you give, the earlier your order is processed.
CURIOUS STRANGER
So if I give the festival lots of money I don't have to wait in the super long lines.
TIFFGOER
Yes.
CURIOUS STRANGER
And if the festival were to get rid of the super long lines, by using the internet but kept the random draw and the processing order in place then there would only be a need for a way to do the exchanges? They could even let you print your tickets off the computer, couldn't they?
TIFFGOER
In theory.
CURIOUS STRANGER
But if they got rid of the lines then how many people would give them a crap-ton of money to skip the line?
TIFFGOER
…
CURIOUS STRANGER
I think you're getting screwed.
TIFFGOER
That's what she said.