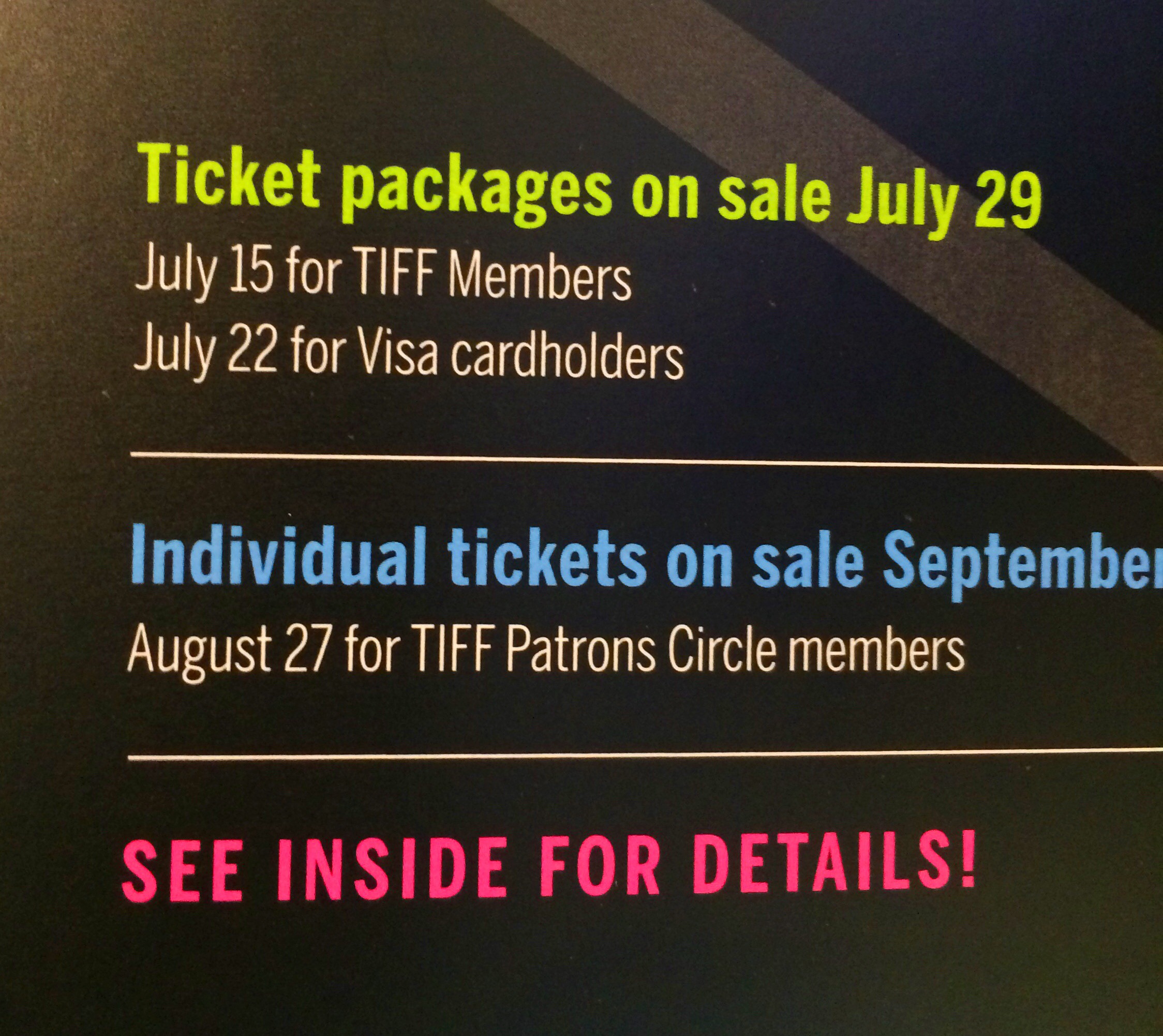 Ticket packages go on sale in July this year.
July 15 for TIFF Members, July 22 for Visa cardholders and July 29 for everyone else.
Individual tickets go on sale September 6.
Normally the member package (I see what I did there) date is in late June, but the shift could be for any number of reasons. Inquiries to the festival box office pre-announcement of the dates met with the response that it was laster because the festival falls a bit later in September.
I'm daring to dream that that they may also be working on either usability or performance improvements to the site – but I guess we'll see come individual ticket day.
Prices this year seem to be close to last year – ranging from "you pay that much for ONE movie?" to "thank god this falls on my anniversary every year so dinner and a movie is a more than adequate gift that I don't have to think about."
Individual adult tickets are $25, premium are $48. Regular flex are still $200 for 10, daytime is $250 for 20. There is one I haven't noticed before – the questionably named Buzz List – a package you buy for priority access to 5 big-ticket screenings for $1500.
I'm sure people will buy that package, I'd be very curious about what your experience is if you do – like is there reserved seating, a separate line etc. while I find that price point slightly outlandish I can't say if someone wanted to take care of me in a style that I would like to become accustomed to I wouldn't enjoy the perks of a pass like that – but if all it offers is a ticket to the buzziest galas then no thanks. Perhaps if that ticket price came with Yonge and Dundas quality VIP seats and the ability to order a bottle of wine at my seat- well then that might be lovely.