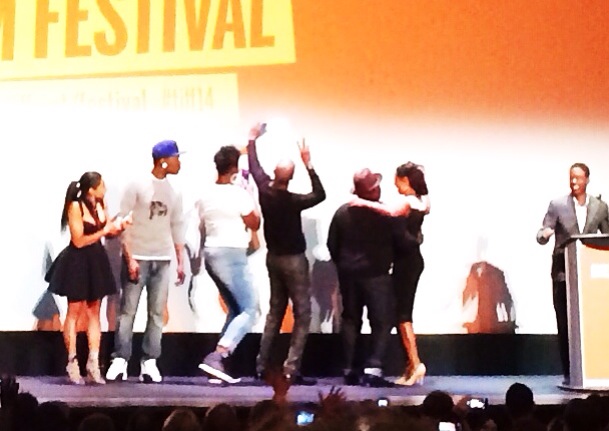 I will be amazed if the festival cut of this film ends up being the version we see in theatrical release.
It's that wrong. It's so wrong, and rough and hilarious that I heard a white man use a variation the N word while reading song names in during the credits before his wife shushed him. It's so wrong a white man thought it was suddenly ok to say that word aloud in a theatre that had literally hundreds of black people within striking distance.
It's also the only movie that I've voted for in the People's Choice award this week.
This movie, this story, this cast and even this Q&A are the reason I continue to take the week off work and watch movies for my vacation.
Watching the cast do a selfie with their backs to the crowd while the usually unflappable Cameron Bailey looked decidedly flapped let everyone know even before it started that they were in for something out of the ordinary.
I do not know how Chris Rock managed to reign in the potential energy of this cast and create one of the funniest, tightest, and charming comedies I've seen in years. His script, (written during breaks on Grown Ups 2) was born out of boredom with not having enough to do. You would think then that the film would be one long masturbatory exercise of a vanity project, however instead he is as generous with his writing as he is with his performance giving every other performer a chance to shine and truly exhibit their strengths.
Rock is Andre Allen, an former drunk and comedian that has to spend a day with Rosario Dawson's character who is interviewing him for a major publication. Honestly with that setup and their performances this could have just been a walk-and-talk around the streets of NYC. However much like he interviewer demands we go deeper, and broader and get to meet everyone that has made Andre the man he is today.
And if the story, the cast and the performances aren't enough then we get Questlove as the music director – so you also get the gift of a great potential soundtrack.
This story will make you smile, make you want to listen to great music, but will mostly make you want to see it again because you were laughing so hard the first time you missed half of the jokes.