This week ticket packages go on sale for Visa cardholders and next week for the public regardless of your payment method of choice.
One challenge you may have with buying tickets is finding a call-to-action on TIFF.net for purchasing a package or a 'shut-up-and-take-my-money' button. I've added an orange starburst where I would personally prefer to see it.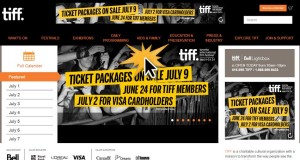 The site has banners, right promotional adspots and a featured carousel to let you know that packages are available for sale, but at least at the time of this posting there is no handy button to get you right into the the ticketing portal. I understand their desire to drive you into their decision making wizard as knowing what type of package to select can be a bit confusing. Assume the cost per ticket ranges from hella high to cray and also think about your objectives – see this handy flow chart to map goals to package type.
So as usual you will have to go into the site, click around, and maybe ask a stranger for a link via twitter to go directly here:
As of 10 AM on sale day if you go into the wizard via any of the three promo spots on the home page, and click the type of package you want you will get to the portal with your package type appended to the URL. You may need to click the TIFF Bell Lightbox bar to toggle between the member or non-member portal.

Premium Flex packs will likely sell out immediately so if you want to go to the big premieres you better haul ass down to the Lightbox when it opens or be ready to get online sharpish at 10 AM.