I'm not talking about the line to do pick ups and exchanges either. I was there, on Labour Day at the crack of dawn with my friend – I was in a bad box, he on the other hand was completely screwed in box 6. After I got my picks I went to take a picture of the box office and the nice employee told me "no pictures".
However I'm pretty sure he didn't say, "don't post the picture you took here on Tuesday when you were here to pick up your programme book and festival bag", so here's a shot of the box office.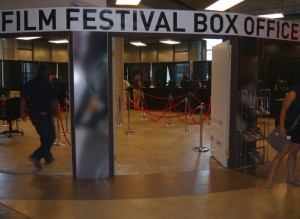 You can tell I didn't take this picture on September 1 because you can't smell the desperation and panic. It looks calm. Serene. Peaceful even.
Back to the sidewalk rage. The Toronto Life Square at Yonge and Dundas is right across the street from the Eaton Centre [I just had to google it to make sure it was still called the Eaton Centre, there isn't even an Eaton's there anymore. Weird]
The Eaton Centre is an official tourist attraction. It's frakkin huge, it's accessible by two subway stops, two streetcar routes, the PATH and a whole bunch of streets. It closes maybe one day a year. The newly pimped Yonge and Dundas square right across Yonge is … like the visual definition of cacophony. There are lights and fountains and screens and giant plant things and the corner of Yonge and Dundas even has a diagonal crossing – and not in a fun Harry Potter way. If you try to approach the Square from Yonge every time you have a movie at the AMC you will hurt someone. It may be a stranger, a lover, or yourself. But there is no way to traverse this intersection daily and remain sane.
Dundas and Victoria streets will be your best friends this festival. If you're coming from the Scotiabank Theatre and you have time to walk, head north to Dundas, go east, and if you're feeling ballsy, access the underground via the Best Buy and go underground all the way to my favourite Gelateria and you never have to see the chaos. Even if you don't go underground the Dundas approach is much less chaotic. From the east, sweet, silent Victoria street, that has not one but two Tim Hortons [one at Queen and Vic, the other just north of Dundas at the base of the AMC building]. You avoid most of the shenanigans in the Square and you get a nice cup of coffee and a Timbit. For a Ryerson approach just cut south through the campus and head south on Victoria.
Seriously – just find another route. The terms fresh and hell come to mind at high noon on that corner.