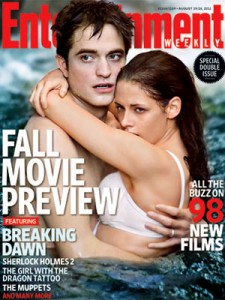 People always ask me how I make my picks. Then they regret it because the process ends up taking so long to explain their eyes glaze over before I'm finished explaining.
So to keep it (somewhat) brief.
Directors – ones I liked before get on the maybe list for sure.
Actors – not just the talented and lovely like Ryan Gosling and Juno Temple but also frequent festival favourites. My list includes Mads Mikkelsen , Viggo Mortensen, Aaron Eckhart, and Kristen Scott Thomas.
Release Date – the Entertainment Weekly fall movie preview comes out around the same time my drop off coupons arrive in the mail. It lists the known release dates for many films between September and December and I occasionally drop an early pick if the movie is coming out very soon after the festival.
Distribution – if the film does not have a North American distributor listed in the Programme book it may or may not be released anywhere you can see it anytime soon. I tend to go for UK picks that may only end up airing on BBC but are actually awesome films, like The Trip, Mr. In-Between and The Last Hangman.
Programmer – year over year you will find that you may love films that were selected by the same programmer. If your sensibilities align with one or two it makes the elimination process easier. I tend to love the picks of Jane Schoettle and end up with at least 25% of her films in my final list.
And finally the schedule – when the actual times and dates come out inevitably I have many of my first picks in the same time slot. I have to go through all of the filter/narrowing options listed above to make my final selections. One must also consider the likelihood of waking up for a 9 AM film when building a schedule. Many bars are serving until 4 AM during TIFF – jus' sayin'.  And even if you can wake up, you need to pick something that can keep you awake. Previous early morning picks include Easy Money, Dave Chappelle's Block Party and No Country for Old Men. Gunshots or music are good for keeping you up in the morning.