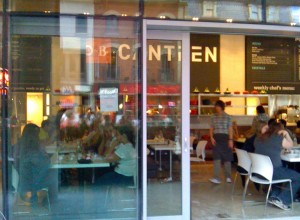 Ok, it was lovely, such a lovely experience in fact that I may be willing to forgo my informal ban on solids at the O & B family of restos.
I had a bad experience. Moving on.
I thought that the last thing the overcrowded strip between Simcoe and Peter on King needed was another place to eat, which may still be true – but what we didn't have in that strip was enough seating where you could eat like a civilized person without having to wait for service. If you try to go to one of the sit down restaurants you better have at least a 2-3 hour gap between films. If you go to one of the more casual spots you don't have the same selection, they usually aren't licensed. One of the only places with lots of seating is z-teca – and no matter how far away from the kitchen you sit you will leave smelling like grilled meat and cilantro.
Canteen had welcoming, efficient staff (I hope they still do come September 20th, but if anything can beat the nice out of you it's festival goers sans caffeine – just ask the kids at Scotiabank). The bacon butty I had for breakfast after the pickup was divine. Of course adding bacon – back or any other format – automatically kicks up the awesome factor on a meal, but this was just the perfect little smackerel of something to have with a bottomless cup of coffee, all for under $8 (not including tip). The next day I went for one of the lunch sandwiches – a chicken club (yes again with the bacon) and it was equally yummy. The salads I bought for a healthy, tiny friend were according to her, great, and she consumed her mixed green salad and italian couscous with much enthusiasm.
The salads were a bit of a higher price point, but since I will be sticking mainly to foodstuffs that include bacon in one format or another I'm not too concerned.