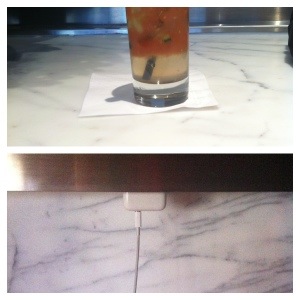 Those of us that remember the birth of the Lightbox recall when the Luma Lounge was the Blackberry Lounge.
One major feature of the Blackberry Lounge was the Blackberry chargers all along the marble bars.
When the branding agreement ended the holes for the cords and the chargers were removed, but the outlets are still there. Next to the alcohol. So yes, while I love all licensed establishments equally I would have to say that for this week I may love Luma the most. I can forgive the removal of the Stompin' Tom, because the new kid on the menu, Love Punch is almost disturbingly healthy tasting. I fear by the end of the week it may also be my only source of fruits and veggies. The Canada Food Guide has no place at the Festival.