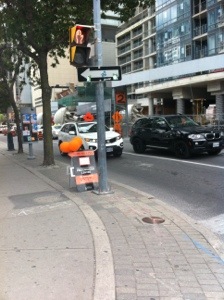 We have two seasons in Toronto. Winter (so Stark) and construction.
Every year the natural inefficiency of the first days of TIFF overlap with the denouement of construction season.
Inevitably not only will you be waylaid on your way to films during the first few movies, so will the talent and the programmers on their way to do the intros and Q&A sessions.
Cabs may not help you get between theatres in a timely fashion. The old ankle express may be the best way to go when you are moving around town. It will take until Monday normal transportation to make expected turnaround times. This year with the removal of the former AMC at Yonge and Dundas the Ryerson is now an outlier on the Festival map. With its 1200 soul seating capacity it also takes the longest to onboard. If you have to get to the Lightbox within 30 mins you either need Argo Affleck for an ex filtration or I would recommend hoofing it to Queen, and either jumping in a cab or streetcar. Or Batman Affleck to build a bridge with the Tumbler.
The Subway is your best way back to civilization from Isabel Bader – UNLESS they have scheduled service again this year then a jog down to College and streetcar ride may be your best bet depending on your next destination.
Pack a flask and hope for the best. Winter is coming.