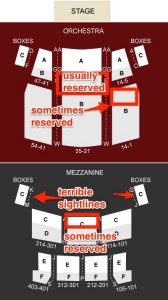 Had a friend ask when they should line up for the Elgin.
As usual with TIFF there are no easy answers. It's a huge theatre with horrible sight lines if you are on the side or behind tall people. Also leg room is not great. Not as bad as the Ryerson where circulation goes to die, but it's a near thing.
If you are seeing something popular early in the festival it would not be insane to go as early as one hour before – and it would not be inconceivable that you would still only get an average seat as they save MANY  for industry and the people with the fancy card get in first. The line may seem terrifyingly long, but that is because people waiting for the Winter Garden are in the same physical lineup that wraps around Yonge and continues around the corner north of the theatre.
If you have any kind of Visa bring it – sometimes, especially in the first few days the rules for getting into the Visa Screening Room are vague and the volunteers are given conflicting info – so even if you can't get in the fancy room, you may be able to get in the advance entry line. Line and room privileges may only apply to Gold and higher, but sometimes any Visa card will suffice.
I would normally recommend going for the first row in the balcony instead of trying for the floor – but over the past couple of years they have been blocking those off for special members, Visa cardholders or industry as well. Middle floor OR the sides on the aisle closer to the stage is good – the aisle seating is slightly more angled so you get unobstructed views even if it's crowded. If you are long of leg and short of torso it can make all the difference.
Unfortunately the aisle seating on one side (closest to the stage) is also often reserved as they have started to save that area for talent as well – makes sense, as if they stay to watch the film they are usually escorted off that side of the stage, and then they get all the awesome leg room AND they don't have to go as deep amongst the non-talented.
Normally I wouldn't share this info, but since I cancelled my Infinite card in a fit of pique last year due to poor TIFF-related benefits I'm just as screwed as anyone else.