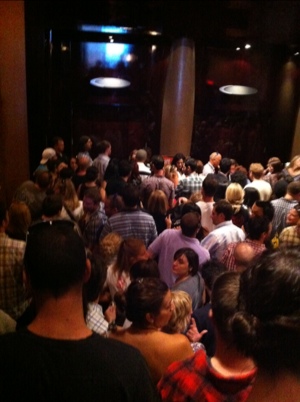 The Princess of Wales Theatre – 300 King Street West, Toronto, ON M5V 1J2 (416) 872-1212
G+ Link  St. Andrew Subway stop via TTC or King streetcar to John.
Never take the streetcar to John if you don't have to. Get off at York if you are approaching from the west or Peter if you are approaching from the east. The blocks between the Hyatt and University are a hot mess for traffic and walking will likely be faster for most.
Last year I saw the PJ 20  the most excellent documentary by Mr. Cameron Crowe at this venue.
The sound is excellent in this venue and the seats are quite comfortable.
However – last year it did not appear that there were enough orange shirts to deal with the volume of humanity that arrives for a TIFF event. The very professional and polite and well-clad staff on site may not have anticipated the energy and enthusiasm a crowd of plaid-and-flannel wearing pre-middle-aged hipsters would have after lining up for hours on a sunny afternoon. This was not the slow processional of the afternoon matinee crowd. I have never appreciated the orange shirts more when they were not around in force to make sure people were in the right line. As for the onboarding process, well I have to give them props for letting us in the theatre and out of the sun – but the doors were to the seating area were not open prior to letting the line in and that resulted in… well you can see from the picture it resulted in shenanigans.
I do have to give this venue a special commendation for being the best smelling TIFF venue ever – if only because there were hardly any films screened here so festival-funk had not permeated the seats.
It's a great location as it is close to many bars, transit, the box of light and Scotiabank (Festival Hall) but if you have a film here ask at least three people if you are in the correct line for ticket holders and get ready to scramble when you get inside.
If the rumors are true this may also be a red carpet venue this year – so the good news is there should be more volunteers and headsets to work the line, however they may not have the logistics of the space sorted out so if you go with a group be prepared to split up if you want a good seat.