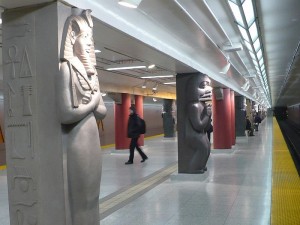 Art Gallery of Ontario – Jackman Hall – 317 Dundas Street West, Toronto, ON M5T 1G4 (416) 979-6648
G+ Link –  Museum subway stop via TTC
I remember seeing Boy A at the AGO on a Friday morning. Going back in the virtual time machine that is the google docs list of my schedules I can see that on Friday September 14, 2007 I was there at 9:00 AM.
It is entirely possible that the venue has updated the seating so it is either more comfortable or there are better sightlines, however I do know I can neither confirm or deny that because I am fairly sure I have not seen a film at that venue since 2007.
I do remember the actor portraying the eponymous Boy was amazing. He is Spider-Man now.
Overall location, in and out access, ease of finding bathrooms and proximity to other venues often makes this location a big thumbs down for me, but if the movie looks good enough, or if Jane Schoettle has selected it and I have a three hour gap to get back south of Bloor for my next movie I wouldn't count it out. To be fair I can't rate the comfort of any theatre based on how I feel at 9:00 AM on the last Friday of the festival. Anything that isn't a massage recliner with a glass of bourbon attached feels like the Iron Throne by the time I get to the back half of the week.